Farmers following Kansanshi's Conservation Farming Program have turned their subsistence farms into profitable businesses
When in 2010 Kansanshi Mining PLC offered its very first training program on conservation farming methods to seven farmers in the greater Solwezi area, the company never imagined they would have trained over 34 000 farmers nine years later.
Today, the principles of conservation farming are ingrained in thousands of farmers' daily routines, and new requests to join the program come in every week. Why is conservation farming so popular? It's simple: the families who closely follow a program involving crop rotation, fertilizing, composting (and a few other processes) have transformed their modest subsistence farms into commercial operations.
Mining For Zambia asked some of the farmers participating in the program what they've learned since joining.
Brian Sailunga
"I'm a farmer from Mutanda area, in Kalumbila District. I've practiced conservation farming for seven years, from the year 2012. We used to see farming as something that you can do if you don't have any work. Now I see farming as a proper business. I've done quite a lot of things with the money that I get from selling the crops that I grow. I've been able to send my children to school. In fact, I have seven children, and the last born is in Grade 12 now. The way our economy is, school fees are difficult to afford, but I've been able to pay. And not just school fees… I built a bigger house and I've even put in electricity.
I've learned that farming is a good business. It can make us richer than the people who go to offices or to the mine in the morning. The number one lesson conservation farming has taught me is that the resources – the natural resources that God has given us – are very important."
What exactly does Kansanshi's conservation farming program involve?
Kansanshi Conservation Farming Program Supervisor, Maximillian Katanga, explains:
"Conversation farming is where the farmer preserves or takes care of every resource needed for farming. Minimum soil disturbance, use of permanent basins, use of natural or organic manures or fertilisers, and crop rotation are all central to our conservation farming program. Since 2010, we've extended the program a lot and, starting in November 2012, we built a training institute and started seriously training these farmers.
"The number one lesson conservation farming has taught me is that the natural resources God has given us are very important."
After training farmers at our facility during a one or two-week program, we follow up with them at their farms. Once a week, a field officer on a motorbike visits them and provides guidance – every week, for five years. They do the same thing over and over again, so that by the sixth year, they are able to go through all the processes all on their own. If we see a farmer has done well, we go and take videos. The training team also visits villages at night when people have stopped what they are doing. It's usually the father or mother of the household who comes for training during the day. In the evenings, the kids can watch the videos so that the concept of conservation farming is understood by the whole family."
Fleming Kakoma
"Farming is a business. You cannot just farm for consumption. We farm in order to sell our produce.
I've been practicing conservation farming since 2015. From the education that we've gained from the Kansanshi farming program, my attitude has changed tremendously in the sense that, from a small piece of land, we're able to yield a lot.
Being in a village before I joined the conservation farming program, I did not have enough. Now, I've managed to build a good house in the village. I've managed to send my children to school – one is at university, the other one is in Grade 12, and the third is in Grade 9 – without any problems. I've also managed to get a few items that I never owned before."
What challenges has farming presented over the years?
"The biggest farming challenges that I've come across is with our neighbours who have not joined the conservation farming program. They have a tendency to set fire to our fields. After you've worked your field nicely from April up to November, you've mulched it, you've done all the work, you find that towards the rainy season, they come and set your field on fire. That's the biggest challenge."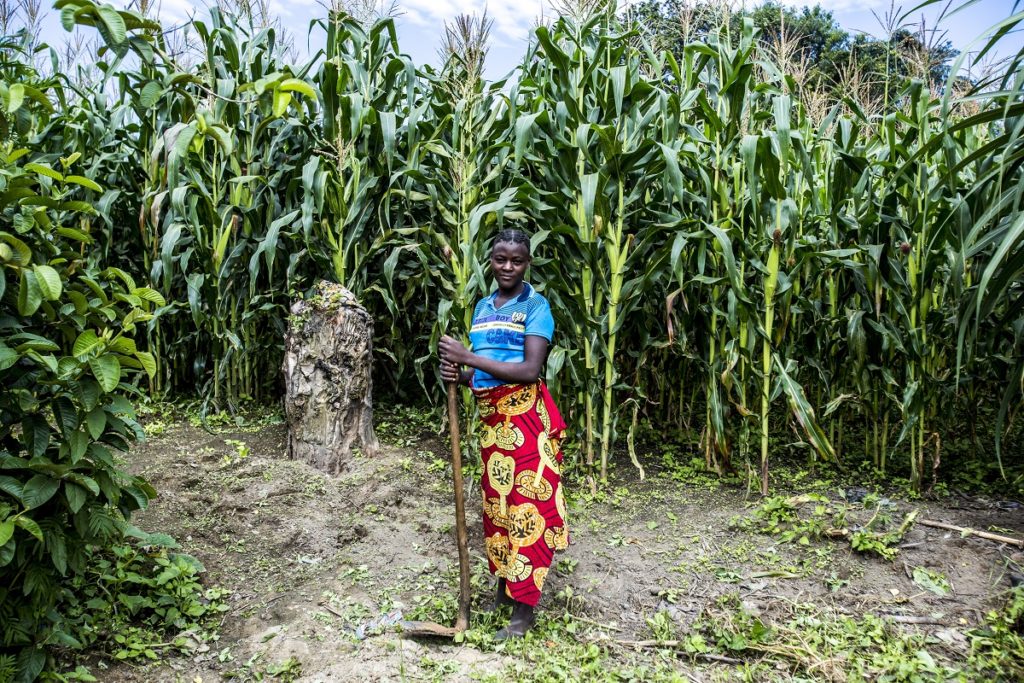 Maximillian Katanga explains the background behind slash and burn farming in the area.
"Local farmers previously all used the slash and burn system: cutting down trees and burning them for farming. It's still widespread, we are fighting it. When you do a slash and burn on a piece of farmland, the first year you get a slightly higher yield, the following year it is reduced, and in the third year, nothing. People abandon the field and start again. It was encouraging deforestation.
The ash acts like lime, so it reduces the amount of acidity in the ground. The crop planted is able to use fewer nutrients. But the following year, the soil is acidic again.
What we do, after teaching people this, is create a lot of demonstration plots. We choose pieces of land which people have abandoned and we do our conservation farming on that land. To counteract the acidic soil, we use agricultural lime. We also use fertilisers mixed with compost, and we get better crop yields.
Farmers are able to see that this method works. Today, we don't need to go around to tell people about conservation farming – people come to us and request training. Every week we train about 50 farmers. It's free of charge, paid for by Kansanshi Mine."
The sky is the limit
Some farms have seen their crop yields improve by as much as 900%. They sell vegetables and green maize at the market once a week. They sell their annual crops – like maize, ground nuts, sorghum, and soya beans – to businesses, usually via introductions from Kansanshi. Many also sell their maize to the government.
"Those that follow the program well, make profits every month," says Katanga. "We provide training and give them ideas on how they can grow their farming business. Some farmers use their profits to buy animals like cattle, goats, and chicken. Their opportunities are not limited anymore; now they can expand their businesses."
See also: Inside Solwezi's Million Dollar Village Banking Program