The process of shifting from a reliance on fossil fuels to renewable sources of energy is a mammoth undertaking, but the fact that technology for harnessing green energy is ever improving is, perhaps, a silver lining. So, too, are the investment opportunities that mineral-rich countries like Zambia are in line to attract.
In order to realise their goals of becoming carbon neutral within the next three decades, countries like China, the USA, and the UK all need to move quickly to secure a reliable supply of critical metals. Zambia is endowed with three of these: cobalt, nickel, and copper. Now, with demand for copper in one key growth area – Electric Vehicles (EVs) – accelerating faster than previously expected, the stakes in the green tech race are even higher.
EVs require an average of twice as much copper as their combustion engine counterparts. End-use copper demand from passenger EVs (including hybrid EVs) is forecasted to rise from around 600,000 tonnes in 2021 to roughly 2.9 million tonnes within the next decade, according to energy and metals researcher, Wood Mackenzie. This means that today's EV-driven demand for copper represents just over 20% of what will be needed annually by around 2030.
As the graph below shows, 'Light-Duty Battery Electric Vehicles' (primarily used to transport passengers, but also including those carrying limited amounts of cargo) is one category where demand for copper is soaring.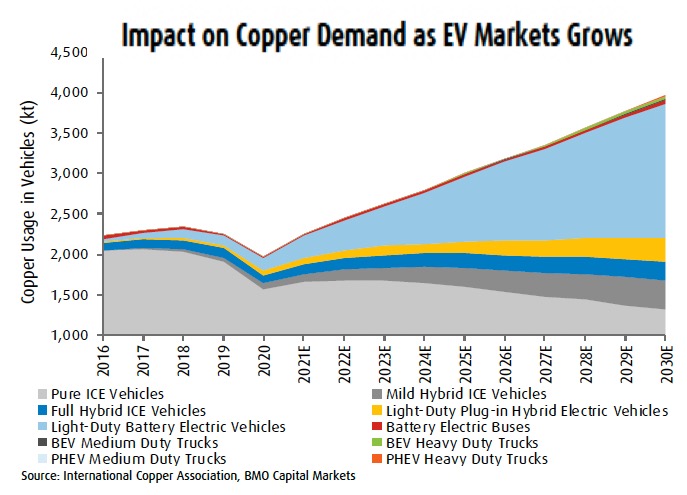 The battery packs that power these light duty EVs typically contain three to four times the amount of copper required by their gasoline and diesel-powered equivalents. This translates to 80-85kg of copper in the batteries and motors of EVs, compared to the 20-25kg needed for Internal Combustion Engined (ICE) cars. Naturally, bigger battery packs required by heavier-duty vehicles – from fully electric trucks to Plug In Hybrid Electric (PHEV) models – require substantially more copper. Highly-conductive copper is also king when it comes to making the components for EV charging infrastructure.
These bullish copper forecasts have recently been met with a spike in manufacturing capacity for a particular type of copper product called electrodeposited (ED) copper foil, which makes up a bit less than half of the average EV battery. The process of manufacturing ED foil relies mostly on so-called "high-grade scrap," taking some pressure off of copper miners and refineries. Nevertheless, surging demand for the red metal is creating a substantial supply-demand gap which will be an enormous challenge to plug.
Indeed, the shift towards green energy generation and EVs is "possibly the most immense demand opportunity that the copper mining sector has ever seen," said Mr Sokwani Chilembo, CEO of the Zambia Chamber of Mines. It is expected to make the previous supercycle, driven by China's growth, pale in comparison.

Mr Julian Kettle, Senior Vice President and Vice Chairman of Metals and Mining at Wood Mackenzie, points out that reaching the 2030 emissions reduction targets that many countries have set in line with the Paris Agreement will require "a massive acceleration of investment in primary extraction and processing" of the metals that will power this energy transition.

In a recent interview, Zambia Chamber of Mines President, Dr Godwin Beene explained, "Zambia is still far from reaching its full potential, which is primarily the result of an uncompetitive and ever-changing mining tax regime." But, he added, "all is not lost, if we act with speed. Other jurisdictions, particularly those in South America that have seen the greatest growth in recent years, may become less attractive investment destinations, as their national politics shifts to the left. So, there is potentially a window of opportunity opening for Zambia."
As the world increasingly looks toward this energy transition, will Zambia be in its line of sight as a key supplier of the green revolution's copper? 
See also: Could Zambia join the top 10?