Mining and aviation are worlds apart, yet they share a common feature – both are highly dangerous, and need skilled professionals who know how to handle life-threatening situations.
Airline pilots spend hundreds of hours training on simulators, learning to handle all kinds of emergencies – particularly engine failures – which could put their passengers' lives at risk. Only then are they allowed to fly.
The training of miners is now starting to resemble the training of pilots in technological sophistication. Mopani copper mine's purpose-built $20 million training school in Mufulira features a variety of simulators which allow miners to learn how to handle explosives, blast open rock faces, and drive heavy machinery and equipment.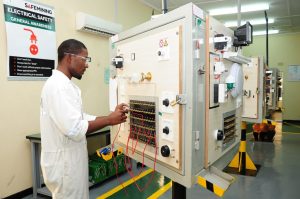 "You can't just teach miners to pass exams – that's theory. You also need practical, hands-on training where people learn to identify faults and handle unexpected situations. It is this which makes our school unique, even by international standards," says Lourens de Klerk, who heads the centre.
"When our graduates start work, they are already familiar with many of the conditions and situations they'll encounter on the job. This dramatically reduces the risk of injury or death, as well as expensive production stoppages."
"Mopani has invested more than $20 million in its training centre in Mufulira"
Even the basic process of changing into your gear and going underground is simulated: a lift "descends" to various levels, with a rocking movement which mimics what it feels like to go deeper and deeper. Once underground, everything looks and feels like the real thing, complete with first-aid stations, explosives, stores, rail tracks, machinery and equipment.
At the end of one tunnel, a life-like image of a rock-face is projected. Through computer simulation, students learn how to place explosives correctly to blast open the rock-face to access the ore-body. The system meticulously records all aspects of the process, and takes students through countless exercises until they've mastered it.
Above ground, in a dedicated building, a bank of driving simulators teaches students how to drive mine vehicles. The most impressive of these is a heavy-duty vehicle known as an LHD (Load-Haul-Dump). These massive machines can lift up to 25 tonnes of rock at a time. Students sit in an exact replica of the control cabin, and operate the LHD just as they would in the real world. Computer screens wrap around the cabin and show the driver what is happening "outside". Hydraulic jacks mimic the real movement of the vehicle, complete with realistic sound effects.
"Simulators are only the most visible aspect of our approach to learning," says de Klerk. "But the truth is virtually all of the coursework leans heavily towards preparing students for the practical situations they will encounter on the job."
Candidates are selected strictly on merit. They must have a full school certificate, with a credit or better in maths, science and English. Further tests are done (psychometric, spatial/motor skills, etc) before the final intake is decided. The deserving students are housed on campus and have all their tuition, learning materials, accommodation and meals paid for. They also receive a fixed monthly allowance. But best of all, the first groups of graduates have guaranteed jobs upon graduation. Getting a place on the program is highly sought-after in the community.
De Klerk says the long-term vision of the school is to prepare its graduates to work anywhere in the world. "This is a world-class training centre. We can become the training ground for the world's miners."