'Value addition' is a longstanding aspiration within Zambia's mining sector that isn't always straightforward to implement. Kansanshi Mining Plc's Corporate Social Responsibility Manager, Bruce Lewis, came up with an idea for adding value to Zambia's copper several years ago and, in May this year — with more and more Zambians feeling the direct effects of COVID-19-related strains on the economy — the company decided to run with it.
The result is Solwezi's very own women-run jewellery workshop, where a team of young apprentices and their passionate trainer — skilled goldsmith and jewellery designer Michele Scholtz — are creating a range of unique and inspired copper items that are certain to gain a market in Zambia, and beyond.
Nsanshi Art provides employment to these young women during a two-year apprenticeship, while raising funds for vulnerable women and girls in the community, via sales of the products made in the workshop — and adding value to local minerals.
The equipment, the setting up of a dedicated workshop, and the apprentices' monthly salaries are all being funded by First Quantum Minerals through its Kansanshi Foundation. "At Nsanshi Art, we believe that employment of women, and the financial independence that comes with it, has an inverse relationship with gender based violence," says Bruce Lewis, who has spearheaded several empowerment projects at the mine.
From raw materials to value-added products
All the copper used in the workshop comes from Kansanshi mine's smelter, and Michele and her apprentices get it as offcuts and odd pieces. "We put these in the furnace and convert them into copper bars. From there, we work the bars into flat or round pieces, or wire — depending on what we're making. We design the piece, decide what material you need, and then work it through the roller," explains Michele.
Each item that she teaches the apprentices to make builds on a skill they've just learned. One of the foundational skills in jewellery-making is learning how to use a jeweller's saw. "It's not like a saw you might imagine — like for sawing wood," she says. "A jeweller's saw is only about 1mm thick; it's not about strength, it's about technique."
Learning graciously
"When I joined Nsanshi Art I didn't trust whether I'd be able to make jewellery, and I was somehow scared," says 19-year-old Gracious Kazhila. "But after a couple of weeks of training, I was told to make a spoon, and I was so impressed to see this marvellous thing being made with my own hands!"
Who are these young jewellery-makers?
Nsanshi Art's first two-year apprenticeship program will accommodate three separate cohorts. The first group of seven women who joined the program in May were all put forward by Chief Kapijimpanga, who has supported the company's social initiatives over the years, and whose chieftaincy includes Kansanshi mine's surrounds. The second group — two of whom have already joined the program — has been supported by the Kansanshi Foundation for the past few years, which aims to find employment for young women from abusive or disadvantaged backgrounds, after putting them through high school. The third group will consist of female graduates from the FQM-supported Kwambula Skills Training Centre, where artisanal skills such as welding and metal fabrication can equip them to work in the mining sector. Some female graduates who haven't yet found employment may have the opportunity to upskill themselves during an apprenticeship at Nsanshi Art. There is provision for twenty young women within the first two-year program.
"We hope they can acquire a skill to support themselves and be self-reliant in the future — without having to rely on a husband," says Michele. "After two years, if a student wants to, she could set up her own studio with minimum tools, or she could work for somebody in a studio with more advanced tools. I'm teaching them everything from stretching metal with a hammer to using a motorised roller."
From hammering to laser cutting
A brand new laser cutter is also being commissioned this month, which will create potential for even more sophisticated products. The machine can cut any metal and do fine engraving, down to a few microns. Advanced software is used to operate a laser cutter, and this will eventually be another skill for the apprentices to add to their tool kit.
"I imagine that the students will be ready to tackle the laser cutter a few months down the line. They have just learned to file and saw straight enough. Setting stones — including cubic zirconias, which recently arrived — is the next step," says Michele.
Learning curves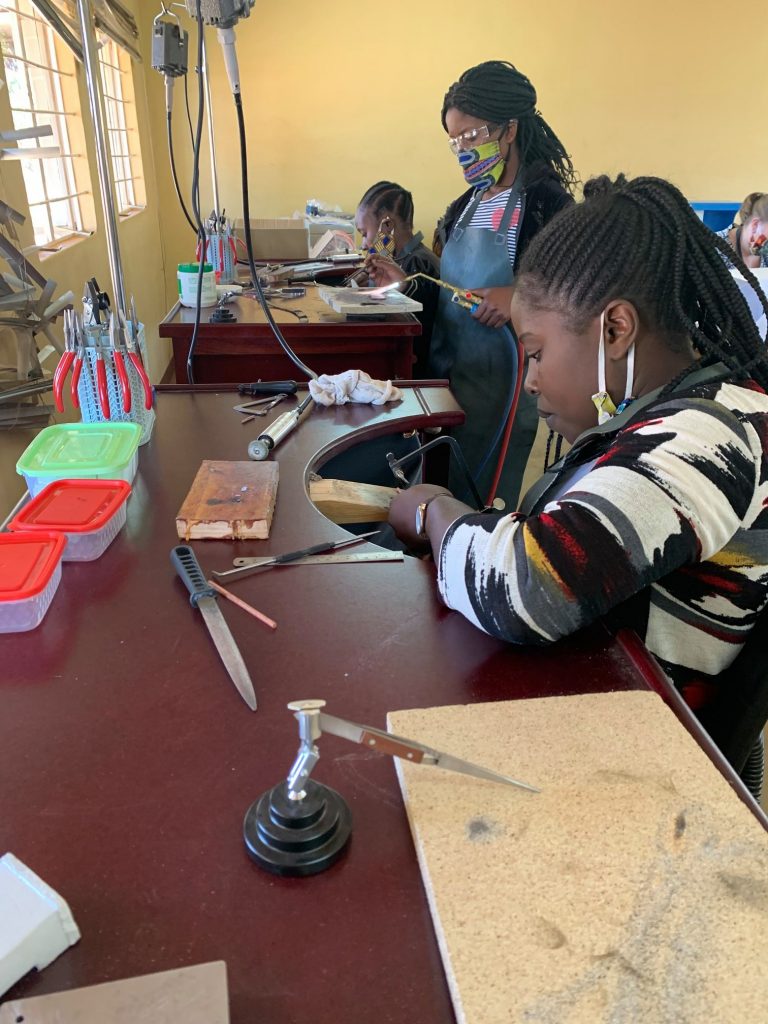 Twenty-six year-old Perthister Mulambisha says that having a "patient and understanding" trainer has been key to her progress as a jewellery maker. "Michele has taught me things that I never in my entire life imagined I'd be able to make! I've learned to make enough different things in two months that could have been tackled in a year."
Venna Mukwala (25) is grateful for the opportunity to learn jewellery-making skills, she says. "I'm happy to be a member of Nsanshi Art. I didn't know anything when I started training — nothing about any of the machines — and in just two months I've learned how to make spoons, bangles, and rings."
Naturally, a steep learning curve comes with challenges. "At first, using a jeweller's saw was the biggest challenge," says Gracious. "Things kept on breaking unexpectedly, but there was nothing to do but get used to the saw — you can't design anything without it."
Some students have backgrounds that are proving to be helpful in jewellery-making. Chunga Kanyakula (25) says that her (albeit limited) experience in design has been really helpful.
"I am finding jewellery-making much more interesting than I thought it would be," she says candidly. What has she found most challenging so far? "Nothing, because I'm a fast learner!"
What's next?
July saw the Nsanshi Art team moving into a dedicated studio, equipped with all the tools, workbenches, and space that they need to produce world-class products. Jewellery and other copper items can be purchased at the studio and, in an effort to go cashless, a Point of Sale machine has been set up.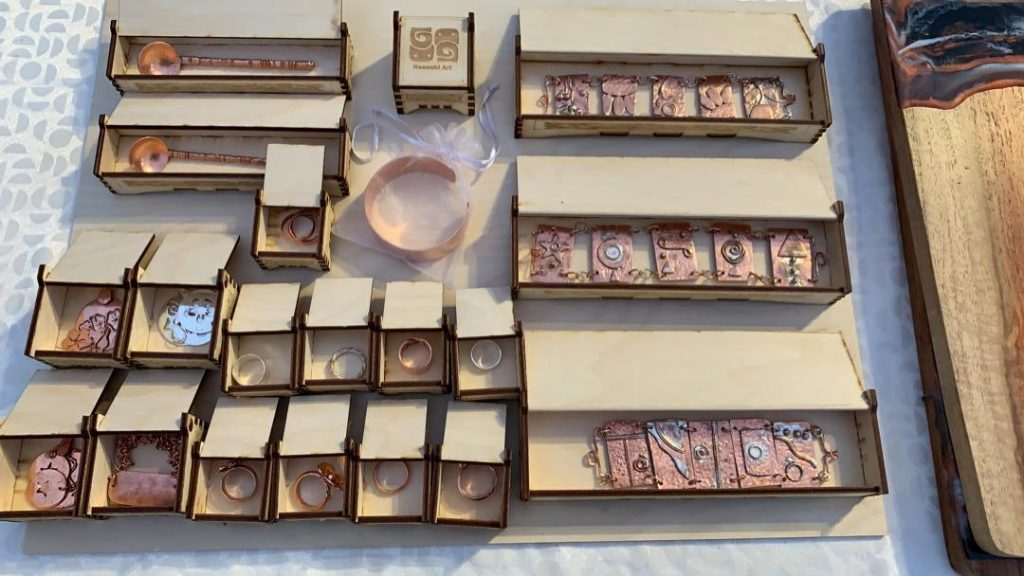 Nsanshi Art held their first official auction on 18 July, selling these talented young women's jewellery and other pieces for a whopping K22,500. The proceeds will go to the Young Women's Christian Association (YMCA), which works closely with Kansanshi Mining Plc to combat gender-based violence and child marriage.
Soon, buyers from beyond Zambia will also be able to purchase beautifully made copper pieces that benefit girls and young women in North-Western Zambia's communities. The setting up of an e-commerce platform is in the pipeline, in order to open up the products to international markets and grow the project's reach. Nsanshi Art's nine young pioneers are only in month three of their 24-month apprenticeship program, but some have already set their sights high.
"When I return home [after the apprenticeship] I plan to buy my own copper and start my own jewellery business," says Lucy Kashipo (22), who finished Grade 12 last year. Has she encountered many challenges so far? "I only know how to make a few kinds of things right now," she says, adding: "But I'm still a beginner; I'll keep learning."
See also: It takes a whole village to empower a girl