Good governance has been the fundamental reason Botswana has realised the potential of its vast mineral resources and turned what was once a poor country into one of the world's most successful economies, says Charles Siwawa, Chief Executive Officer of the Botswana Chamber of Mines.
Governance is a term used in international development literature to describe how public institutions in government conduct public affairs and manage public resources.
"It's fair to say that mining revenue has been the pillar to the country's  economic growth – particularly from diamonds – but this growth would not have been possible without good governance," says Siwawa, in an exclusive interview for Mining for Zambia during a governance conference held in South Africa in November 2016.
"Good governance in Botswana is reflected in relatively low levels of corruption, a good relationship with the mining industry, an awareness of the need to grow and diversify the economy, and knowing how to invest state revenue for the good of the country," he says.
Botswana is consistently ranked as the least corrupt country in Africa, and one of the least corrupt in the world. Since independence in 1966, it has achieved relatively fast economic growth spurred mainly by its mining sector
Long-term policy planning, and a stable regulatory framework consistently applied, is also a key feature of good governance. These attributes are evident in the way in which Botswana has sought to diversify its economy beyond diamond mining.
"The Botswana government realised long ago that diamond revenue would not last forever, and that the country needed to diversify the mining industry and develop the potential of other minerals too," says Siwawa. Realising that this could not happen without the participation of investors willing to take on the high-risk business of exploration, a new investor-friendly Minerals and Mining Act, based on international best practice, was passed in 1999.
"It's absolutely vital for a country to have a good relationship with its mining industry"
"Since the promulgation of the new Act, we have seen significant exploration activity taking place in Botswana, with more than one thousand prospecting licenses granted at one point. It has been a great success, resulting in new mining ventures in copper, gold, coal, and soda ash and potential prospects for lead, zinc and uranium. Diamond mining was the first phase of the economic development of Botswana; the second phase is characterised by these new developments and prospects."
Botswana is also adding value to the minerals mined, he says. In 2012, the government negotiated an agreement with De Beers Diamond Company which saw the diamond giant relocating its aggregation centre (where diamonds are sorted) from London to Gaborone. As a result, a number of cutting and polishing centres have also opened up in Gaborone, albeit encountering teething problems. It is part of a long-term plan to turn Botswana into an international diamond centre. According to a 2016 article in The Wall Street Journal, the move has helped "transform this sleepy capital over the past few years, turning it into a hub for a cosmopolitan crowd of gem buyers" from countries such as Israel, China and the United States.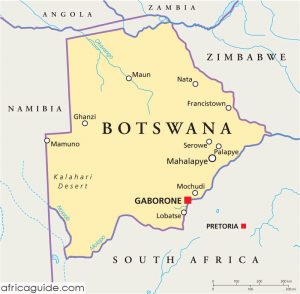 Another move into adding value, says Siwawa, is not just selling coal in its raw format (Botswana has Africa's second-largest coal resources), but using the coal to generate electricity, and then selling the electricity to other African countries – including Zambia.
Siwawa says Botswana has always enjoyed a very good relationship with De Beers and the mining industry in general, and it has been an important reason for the progress made to date. "It's absolutely vital for a country to have a good relationship with its mining industry. You gain more by working together."
The country has made great strides in diversifying not just its mining industry, but its broader economy too. Statistics by the Bank of Botswana show that tourism is now growing slightly faster than mining, and its steady contribution to GDP has helped to mitigate the effects of the slowdown in the mining sector in the current low-price commodity environment.
Of course, Botswana is not immune to some of the challenges facing other mining countries. Some high-cost mines – particularly copper – have struggled to remain competitive against the backdrop of week commodity prices and are on care-and-maintenance until prices improve. In some instances, new investors   are being sought to recapitalise the mines and bring them back to sustainable operations. Commodity price cycles are inherent within the mining industry, he says; but if your operations are towards the bottom of the cost curve, the opportunities of sustainable mining remain on the high side.
"With good governance, the challenges faced by the mining industry are that much easier to overcome," he says.